---
---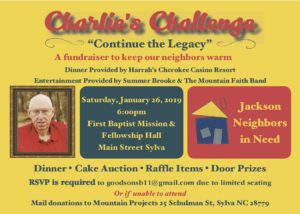 Please RSVP here with the names and number of people who will be attending.
Charlie's Challenge, 2019
It's that time again.  Time for Jackson Neighbors In Need annual fundraising dinner, Charlie's Challenge. This year is special as it is the tenth anniversary of Jackson Neighbors In Need. On Saturday, Jan 26 at 6:00 pm in the Mission and Fellowship hall of the First Baptist Church Harrah's Cherokee Casino Resort will provide a delicious dinner and Summer Brooke and The Mountain Faith Band will perform. Ten years ago this month a group of volunteers met at the Family Resource Center in Webster to discuss how we could help keep our neighbors warm and safe during the cold winter months.  We met together because a grandmother and her two grandchildren died in a house fire because they had no electricity.  Jackson Neighbors In Need was formed that day under the leadership of Charlie McConnell and Patsy Davis, Director of Mountain Projects. We have been helping to keep our neighbors warm and safe during the cold winter months since our inception.  We help those in need with heating assistance, weatherization and minor financial emergencies.   We could not have helped our neighbors without the financial support of individual community members, local churches, the County Commission and the Sylva Town Board.  It truly does take a village.  Since that first meeting we have raised over $300,000 and helped over 600 individuals and families.  On this our tenth anniversary we would like to thank all of those who have supported our efforts over the years.  Please note that all donations received at Charlie's Challenge are used to provide assistance as we have no overhead expenses.  Please RSVP to goodsonb11@yahoo.com.
Mail donations to Mountain Projects 25 Schulman St, Sylva NC 28779
---
---
Jackson Neighbors In Need was formed as an all-volunteer organization in 2009 in order to ensure that all residents of Jackson County would have access to adequate warmth during the cold winter months. This organization is comprised of representatives from community organizations, local governments, churches, local colleges/universities and individual volunteers that collaborate to assist individuals and families in having a warm home.
Jackson Neighbors In Need supports and provides two programs in order to accomplish this mission:  a heating assistance program and weatherization of homes.
In 2018, we added an emergency fund. This fund was created to assist members of our community who encounter a variety of economic challenges that they are not able to afford. Because of JNIN's own funding limitations, our ability to help will be limited to covering smaller, less costly economic challenges.